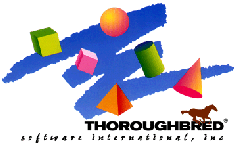 Thoroughbred Software International, Inc.
VIP 4.01 Release Notes
---
These documents are a collection of notes acquired during the VIP development process and beta cycle. The purpose of these documents is to provide technical information and tips. For more information please refer to the Visual Image Presentation Manual.
Thoroughbred VIP, (Visual Image Presentation), is a family of software products that enables Microsoft Windows workstations to access host-based applications. VIP for Dictionary-IV consists of software running on the host environment, communicating with software running on the Windows workstation. The user is able to operate the host application from a Windows workstation and, of course, the user can multi-task, using other PC-based applications at the same time. It intelligently uses dictionary-based information to manage Screens, Menus, Messages and Views. It converts your character application into a GUI application, rather than just a character application in a window.
---
Thoroughbred Software International, Inc.
19 Schoolhouse Road PO Box 6712 Somerset, NJ 08875-6712
Telephone: 732.560.1377 Outside NJ: 800.524.0430
UK Headquarters: +44 1708 384984
Web Site at http://www.tbred.com Contact information: http://www.tbred.com/email.html